In 1837-38, Morgan L. Martin built this classic Greek revival home on the banks of the Fox River for his wife Elizabeth Smith Martin.

The influential Martin family lived in the stately home from 1838 to 1931 and their story tells the story of Green Bay's growth from a frontier settlement to a bustling community.

Morgan Martin's many accomplishments and his contribution to, local, state, and national politics contribute to the significance of Hazelwood.

Listed on the National Register of Historic Places individually and as a contributing historic structure to the Astor Historic District of Green Bay Hazelwood is one of the earliest houses in the County still on its original site.

The Neville Public Museum established Hazelwood as historic house museum in 1964 because people in the community believed it was important.

In 1989 The Brown County Historical Society took ownership of Hazelwood and began a restoration project to reconstruct the south wing of the house, which included the dining room and kitchen. The original wing was demolished in the 1930s.The project included creating office and exhibit space in the lower level.

Hazelwood is furnished with artwork, furniture and objects that belonged to the Martin family. Many of the dishes were painted by Green Bay, Wisconsin artist Frederika Crane, a friend of the Martin daughters.
The Martin Family
Morgan Lewis Martin (1805-1887)

Morgan L. Martin was a prominent Green Bay attorney and civic leader, originally from Martinsburg, New York, who helped lay the foundation for Wisconsin statehood. In 1847, Martin was elected President of the state convention which drafted Wisconsin's constitution. President Polk signed the Act of Admission on May 29, 1848, making Wisconsin the 30th state to enter the Union.
Throughout his life in Green Bay, and in addition to his political activities, Martin had an active law career and served as an Indian Agent and a Brown County judge.
Elizabeth Smith Martin (1817-1902)

Elizabeth Smith married Morgan L. Martin on July 25, 1837, when she was nineteen years old. Born to a prestigious and well-connected family in Plattsburg, New York, Elizabeth came to the Green Bay area with her uncle, noted army surgeon Dr. William Beaumont, in the mid-1830s. Together Morgan and Elizabeth produced six children, only four of whom lived to adulthood.
Though her life was often difficult and sad, Elizabeth came to love her Wisconsin home, and later in her life she wrote with fondness of her early days on the Wisconsin frontier. She wrote about her experiences in many publications, including the Milwaukee Sentinel.
Stephen Leonard Martin (1838-1890)

Stephen Leonard Martin was the oldest of the Martin's six children. His career began with a promising start that included a commission to West Point and an Army commission. Leonard, as he was called, saw action in most of the major engagements early in the Civil War, eventually reaching the rank of Colonel. After the war, he was plagued with asthma and other ailments, but still managed an active career with the Northern Pacific Railroad, the Fox-Wisconsin Waterway, and the Army Pension Office. He never married and died at age 52.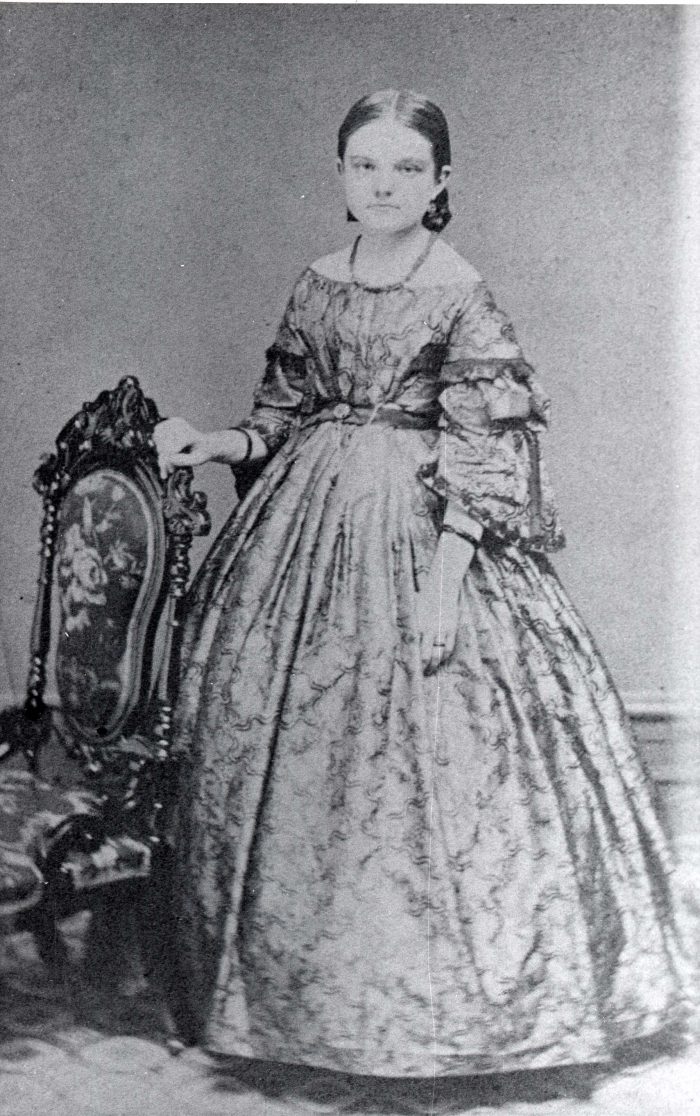 Anne Elizabeth Martin (1846-1862)

Anne Elizabeth Martin, the Martin's eldest daughter, attended Cottage Hill Seminary in Poughkeepsie, New York in the fall and winter of 1861. While there, she contracted scarlet fever and died at Lowville, New York on November 25, 1862. She was 16 years old.
Melancton Smith Martin (1847-1849)
Melancton Martin, the family's second son and died before the age of two. Little is known about him. No images of Melancton are known to exist.
Sarah Greene Martin (1850-1939)

Sarah Greene Martin lived most of her life at Hazelwood. Well educated and proficient in French, she worked with her sister Deborah on translations of the Charles de Langlade papers, discovered by her father. Not as outgoing socially as her dynamic younger sister, Sarah began managing Hazelwood for her ailing parents in the 1870s. After Deborah's death in 1931, Sarah lived with her brother Morgan L. Martin Jr. in Detroit, until his death.
Morgan Lewis Martin Jr. (1852-1935)

Morgan Lewis Martin Jr., or Lewis, as he was known to his family, was the only one of the Martin children to marry and have children. Lewis worked several different jobs throughout the East and Midwest. He met and married Louise Wetmore while working in Marquette, Michigan in the late 1880s. Later the couple settled in the Detroit area where Lewis worked at Detroit Edison as an auditor.
Lewis and Louise produced four children, Morgan L. Martin III, fraternal twins Leonard and William, and a daughter Helen. However, none of Lewis and Louise's children had children of their own, so there are no surviving descendants of Morgan and Elizabeth Martin.
Deborah Beaumont Martin (1854-1931)

Deborah Beaumont Martin was the youngest and also the most active and dynamic of all of the Martins' children. She became a noted chronicler of local history, worked diligently to preserve historic structures like Tank Cottage and Fort Howard Hospital. She served as librarian at the Kellogg Public Library for three decades. "Debbie" was a charter member of the Green Bay (now Brown County) Historical Society and one of the founders of the Neville Public Museum.
Deborah Martin was a civic leader and an ardent preservationist. When she died in 1931, at the age of 77, the entire community mourned.
PHOTOS OF MARTIN FAMILY MEMBERS ARE COURTESY
OF THE NEVILLE PUBLIC MUSEUM OF BROWN COUNTY
Features
(In This Section)